Title: Gone Girl
Author: Gillian Flynn
Publishers: Weidenfeld and Nicolson
Date of Publication: May 24th, 2012
Genre: Mystery and Thriller
Format: Hardcover
Length: 395 pages
My Source: Kindle Ebook (mobi)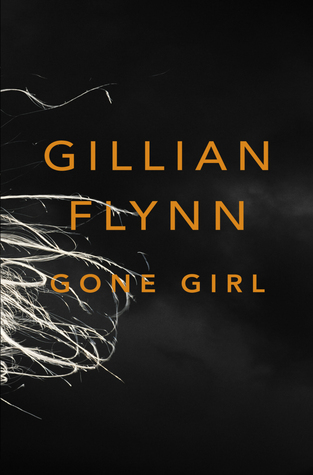 On a warm summer morning in North Carthage, Missouri, it is Nick and Amy Dunne's fifth wedding anniversary. Presents are being wrapped and reservations are being made when Nick's clever and beautiful wife disappears from their rented McMansion on the Mississippi River. Husband-of-the-Year Nick isn't doing himself any favors with cringe-worthy daydreams about the slope and shape of his wife's head, but passages from Amy's diary reveal the alpha-girl perfectionist could have put anyone dangerously on edge. Under mounting pressure from the police and the media--as well as Amy's fiercely doting parents--the town golden boy parades an endless series of lies, deceits, and inappropriate behavior. Nick is oddly evasive, and he's definitely bitter--but is he really a killer? As the cops close in, every couple in town is soon wondering how well they know the one that they love. With his twin sister, Margo, at his side, Nick stands by his innocence. Trouble is, if Nick didn't do it, where is that beautiful wife? And what was in that silvery gift box hidden in the back of her bedroom closet?
When do you categorize a book as 'thriller'? Going by the Wikipedia definition thriller is genre of literature that uses suspense, tension and excitement as its main elements, and if it is so, I must admit Gone Girl is the best 'thriller' I have read till date.
It is the story of Nick and Amy Dunne, a couple married for five years and their marriage is floundering for several reasons. The book is written alternately from Nick's and Amy's point of view. In the first part Nick's perspective shows you the present scenario of their marriage while Amy's narrative, written in a fashion of journals, gives you glimpses of the past- Amy's childhood, their meeting with each other, their courtship days- in short a pretty decent idea about Amy's life. To be completely fair to myself after reading the first few chapters I was rather bored, the narration was interesting, alright but it somehow lacked the essence that a thriller usually does. But that was only in the beginning, part one. The moment you flip the page to begin part two- boom! You're in for lots and lots of surprises!
Even in the first part it doesn't fail to shock you how the narrations of Amy and Nick conflict each other. It is as if the two persons are telling you different stories with same characters having very little in common. But of course the real fun begins in the second part when you begin to realize gradually that neither of the two people is completely trustworthy. They both have their versions of the story that they claim to be the honest one. While in the beginning it seems like they are victim of the troubled marriage, the couple show their true characters later. Even though I didn't grow any fondness to Nick Dunne, I thought he is just your regular bad guy falling victim of a troubled marriage, well, well was I wrong! This guy had an extramarital affair going around for almost a year. But then what Nick had done was nothing but child's play compared to what his wife did. After reading the first part you get the impression what a sweet and loving person Amy is and then you'll be amazed to see how 'Amazing Amy' actually differs from 'Diary Amy'!
The things I liked the most about the book are,
•

The plot- It's a genius creation, no doubt there. The way the story is woven you can not predict what is going to happen next. Not once. It is thoroughly unpredictable which I believe is the essential flavor of a thriller.
•

Character development- I think 'awe' would be the right word to describe what I felt as Amy's character was unfolded slowly throughout the story. She is vicious, yes, but she is goddamned brilliant and organized and you can not but admire her for the precision with which she carries her whole 'kidnapping plan' out. Imagine the level of dedication that she put just to punish his unfaithful husband! The amount of planning and working according to the plan for almost a year before the final act and she did it perfectly, every bit of it, except maybe the robbery in the motel. Hah! It's incredible. And not only Nick, the stories of Hillary Handy and Desi Collings left me gasping! Amy is a character you can neither love nor hate and for that kudos to the brilliant author. She has created the character amazingly!
Even all other characters, including Nick, Margo, Andie, Boney, Amy's parents and all the sidekicks were just perfect.
•

The narration-The narration was flawless as well. Being written from both Amy and Nick's POV, it is quite intriguing, I kept guessing throughout what the other person has to say next. It's gripping, fast paced and well-written. Once you get into the story it's hard to put the book down.
You might be thinking if I liked the book so much why not give it five stars? The reason is I did not like the ending. What was all the revenge planning worth if Nick and Amy were to end up together ultimately? I do not understand. The characters couldn't be more realistic but even then I failed to grow any respect for either of the central characters.
Reading Gone Girl was like riding an emotional roller-coaster. This book is about disloyalty, the fake pretentious people, the devious media and the root of all troubles (probably)- the recession. There were numerous occasions when I was awestruck and my eyes wide-open! None of the characters is completely black or completely white; they are all varying shades of grey which makes it more and more realistic! The psychoanalysis of the characters is commendable. Overall, it is a book that I loved and am certain almost every person will feel the same after reading!
P.S. - Eagerly waiting to watch the Gone Girl movie! :D
Gillian Flynn is an American author and television critic for Entertainment Weekly. She has so far written three novels,
Sharp Objects
, for which she won the 2007 Ian Fleming Steel Dagger for the best thriller;
Dark Places
; and her best-selling third novel
Gone Girl
.
Her book has received wide praise, including from authors such as Stephen King. The dark plot revolves around a serial killer in a Missouri town, and the reporter who has returned from Chicago to cover the event. Themes include dysfunctional families,violence and self-harm.
In 2007 the novel was shortlisted for the Mystery Writers of America Edgar for Best First Novel by an American Writer, Crime Writers' Association Duncan Lawrie, CWA New Blood and Ian Fleming Steel Daggers, winning in the last two categories.
Flynn, who lives in Chicago, grew up in Kansas City, Missouri. She graduated at the University of Kansas, and qualified for a Master's degree from Northwestern University.